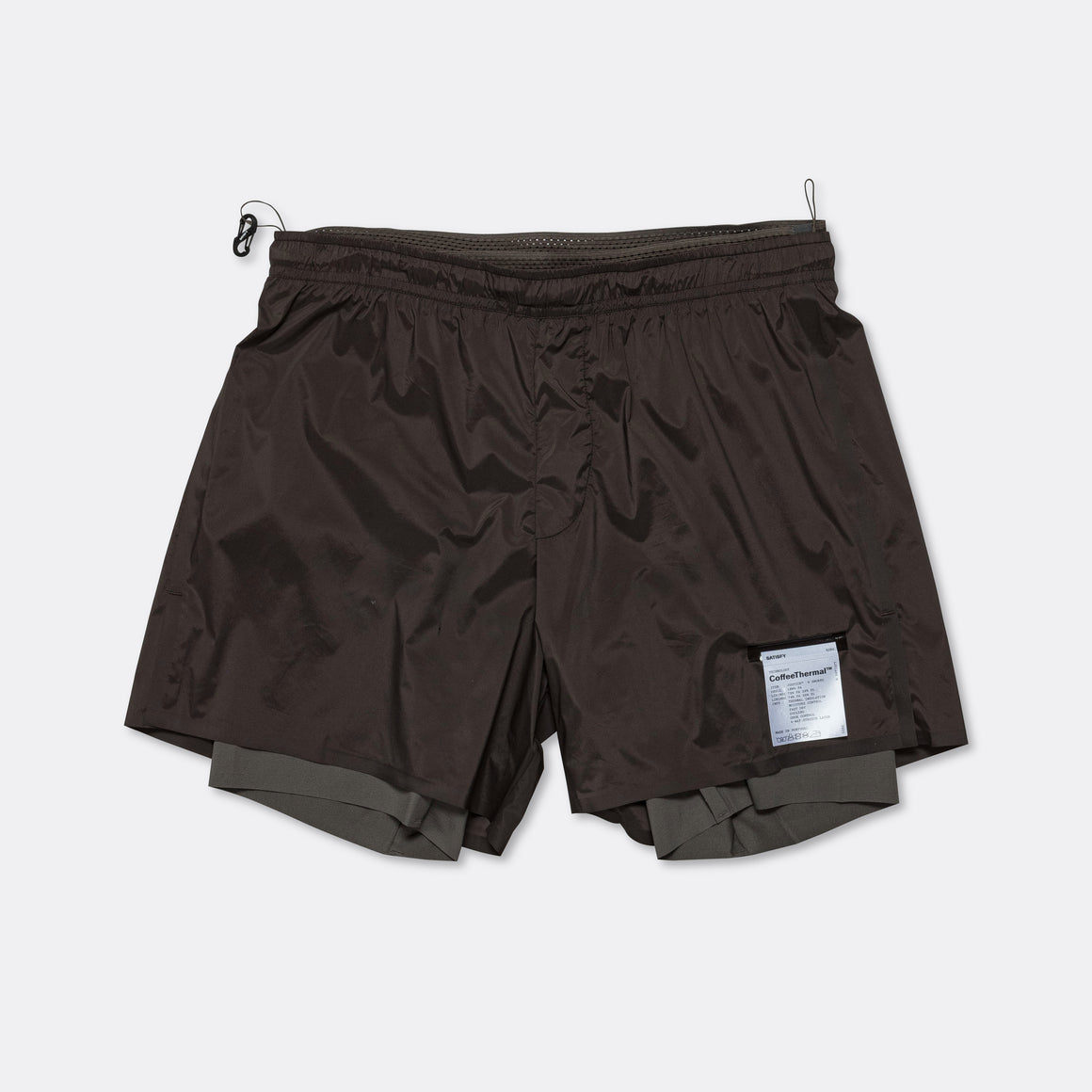 Mens Justice™ CoffeeThermal™ 8" Shorts - Quicksand
When the temperatures dip but you're still eager to hit the road, you need running shorts that are going to keep your warm and still perform. The classic 8" short from Satisfy employs the expertise of Israeli nylon experts NILIT® to create the unique CoffeeThermal™ fabric.
The rest of the shorts are as you'd expect from Satisfy, with French design sensibilities and performance working hand-in-hand to give you shorts that will make you faster and keep you comfortable. The outer shorts are made from Ripstop Tech-Silk and complemented by briefs in Justice™ multi-stretch Tech-Silk.
NILIT®-HEAT CoffeeThermal™ – Made in France in collaboration with the Israeli nylon expert, NILIT. This multidimensional stretch fabric provides compression and is knitted with coffee-charcoal infused fibres making it naturally heat-retentive, bacterial and odour resistant. NILIT®-HEAT Coffee Thermal uses waste product from coffee production.
Ripstop Tech-Silk – Produced in Italy by a mill founded 1893, producing luxury and technical fabrics since 1955. Ripstop Tech-Silk has the feel of silk and is extremely lightweight, durable and resilient.
Justice™ multi-stretch – Justice™ technology was developed in house by Satisfy. This unique synthetic fabric is produced in France by a natural silk maker whose mill was founded in 1839 and pivoted in the 1960s to technical and elastic yarn manufacturing. Justice™ is highly durable and resilient, but has a feel of silk and an incomparable lightness.
Specifications
- Outer: Ripstop Tech-Silk [Italy]
- 100% Polyamide
- Justice™ brief [France]
- 72% polyamide, 28% elastane
- NILIT®-HEAT lining [France]
- 72% polyamide, 28% elastane
- Sweatproof phone pocket [fits iPhone 13 Max]
- Double waistband w/ drawcord
- Internal mini-carabiner
- Reflective branding
- SKU: 5282-QU-RA